Materials
Magnet backed coupon holder from a dollar store
2" x 3" cards with picture of the child, picture/ symbols of foods, juices
Pictures/ symbols representing actions: want, eat, like, thirsty, hungry, done, etc.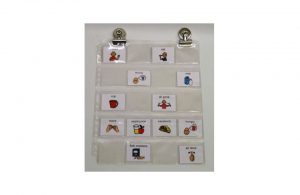 Since families often spend a large amount of time in the kitchen, the room serves as the activity center of the home. It is also a place where a child is likely to express wants and needs. Many kitchen activities offer children opportunities to communicate. These opportunities may arise during meal preparation, meal times, or snack times. Here is a simple idea for providing a convenient communication opportunity near the refrigerator.  Compliments of Tots-n-Tech.
Downloads